Jaroslav Gebr's Hollywood creations at auction, once again • Winter 2020
AUCTION PART II CLOSED

click on pictures to view and Bid Online
Jack Lemmon 1974 Don Johnson 1972 Richard Chamberlain c1980
SOLD SOLD SOLD

Veronica Hamel 1978 Rod Steiger 1969 Telly Savalas / Kojak 1985

SOLD SOLD SOLD

Kojak 1985 The Hindenburg 1975 Little Women 1978 The Misadventures of
Publicity Flyer Sheriff Lobo c1979
SOLD SOLD SOLD SOLD

Sci-Fi Cult Movie: Metal Storm
Prop-Story Book 1983

SOLD

__________________________________________
Past Auctions

November 14-15 2020
AUCTION PART I CLOSED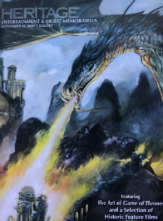 John Candy Original ET Playbill 1982 ET Storyboard 1982 Dean Martin 1961

SOLD SOLD SOLD SOLD

Amazing Stories 1985 Amazing Stories 1985 Ami Dolenz • Murder She Wrote HOOK

SOLD SOLD SOLD SOLD

_____________________________________

August 8th-9th 2020
Film Set Art by Jaroslav Gebr to Auction
• Own a piece of Hollywood History.

Portraits of Dustin Hoffman and Edie Adams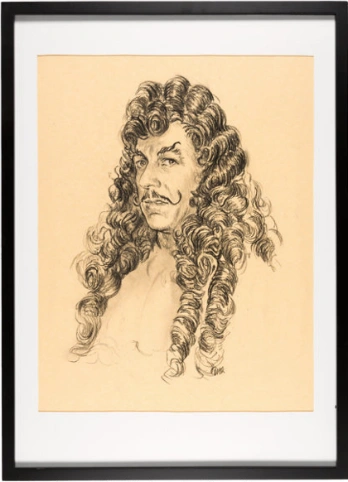 November 16th 2019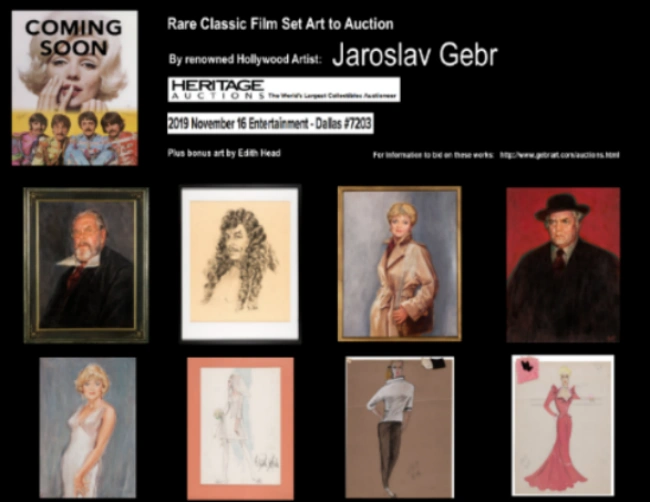 _____________________________________________________________________________________
June 2018
A Celebration Of Robert Osborne Bonhams Auction, New York, New York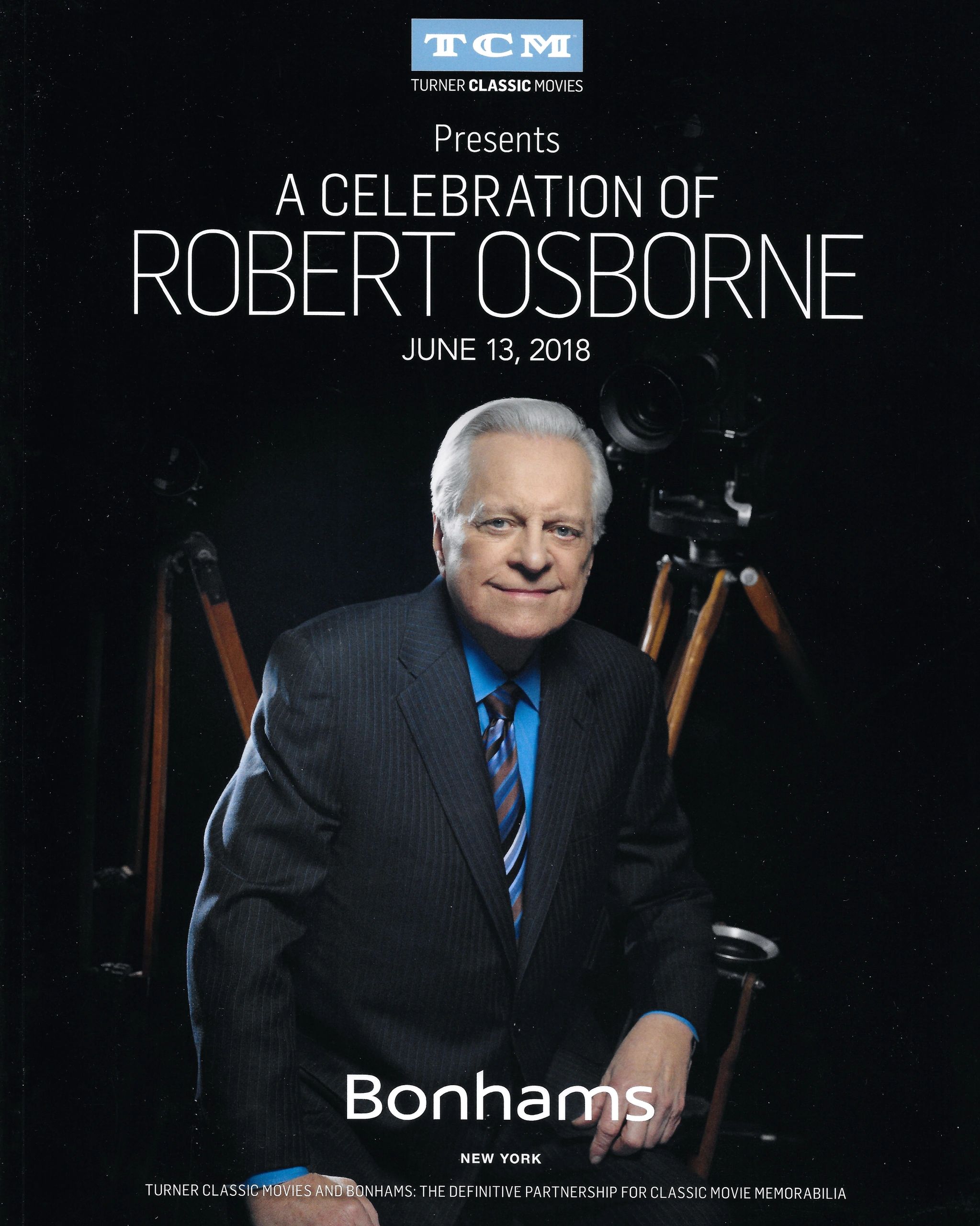 Kim Novak

A JAROSLAV GEBR OIL PORTRAIT OF KIM NOVAK FOR THE LEGEND OF LYLAH CLARE
Lot # 295
$3,000.00 - $5,000.00

Metro-Goldwyn-Mayer, 1968, Oil on Board, signed ("Gebr") to lower left, framed. In Robert Aldrich's wild Hollywood melodrama The Legend of Lylah Clare, director Zarkan (Peter Finch) is obsessed with his dead leading lady Lylah Clare (Kim Novak) and decorates his mansion with a series of different portraits of her. Painter Jaroslav Gebr created a series of approximately twelve portraits of Novak as Lylah in various poses and costumes for the film which appear througout, including this one. With a letter of authenticity from the Jaroslav gebr Estate.

Overall: 23.5 x 30 x 1.75 in : within frame: 17.5 x 23.5 in.
_____________________________________________________________

Janet Leigh

Lot # 218
$1,200.00 - $1,800.00

A JAROSLAV GEBR OIL, PORTRAIT OF JANET LEIGH FOR THE COLUMBO EPISODE "FORGOTTEN LADY"

Universal, 1975, Oil on Canvas, "Jaroslav Gebr / 1974 / Columbo" in black marker to verso of canvas, framed, in the Columbo episode "Forgotten Lady" Detective Columbo (Peter Faulk) investigates a murder involving a fading movie musical star (Janet Leigh). This striking portrait of Leigh was created for the episode and a larger almost identical portrait hangs in Leigh's character's home. This is apparently a secondary, small er version painted for the episode. With a letter of authenticity from the Jaroslav Gebr Estate.

Overal: 43 x 35.5 x 2.5 in : within frame: 28.75 x 35 in

______________________________________________________________

2017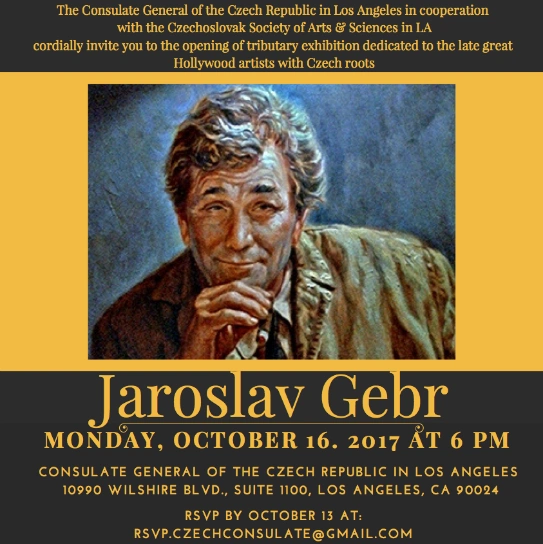 A collection of traditional European fine art and Hollywood Film and Television Illustrative art by Jaroslav Gebr has been presented on October 16th, 2017 to the Consul Generals office of the Czech Republic / Los Angeles, Consul General Pavol Sepelak. In addition to this wonderful tribute, Thomas Gebr and his wife Renee and sister Katherina presented a special pen and ink to the Ambassador of the Czech Republic to the United States, Hynek Kmonicek at the Consul Generals home in Los Angeles to be taken and hung in Washington DC at the Czech Republic Ambassador's residence.
_____________________________________________________________________________________________


A series of tributes and exhibits are to be held this year for the late great Hollywood Portrait Artist and Muralist Jaroslav Gebr_
The pride of Pisek, Czech Republic.
Jaroslav Gebr's works have come to you via Motion Pictures and Television for over the last 50 years, such as Jaws, The Sting, Sound Of Music, Camelot, Scarface, Night Gallery, Colombo and countless others.
His works have also become part of many 'A' list actors, directors and producers private collections, such as: Kim Novak, Lucille Ball, Roddy McDowell, Barbra Streisand, Joan Crawford, Rod Serling, Clint Eastwood, and countless others.
Tributes in 2017 are being planned for Jaroslav at the Art Directors Guild, Los Angeles and at The Academy of Motion Picture Arts and Science, Beverly Hills and will be graced with the kindest attention and sponsorship by the Consulate for the Czech Republic, Los Angeles.
These exhibits will feature the actual works and ephemera from the Film and Television productions Jaroslav worked on, as well as works from his private 'Fine Art' creations during his early years in Europe and South America.

Jaroslav 'Jerry' Gebr Tributes & Exhibits for 2016 now enjoys the full support from the Consul General of the Czech Republic/Los Angeles_


____________________________________________________________



2016


gebr.art • past press releases





_________________________________________________________________

2016




_________________________________________________________________________________________

2014

Original painting from NIGHT GALLERY re-surfaces after 44 years and is purchased
by world renowned director • Guillermo Del Toro • for $50,000.00



Night Gallery – (NBC-TV, 1969)


'The Crucifixion' was painted by renowned Hollywood portrait artist and muralist Jaroslav Gebr. It was used in the pilot episode of the cult-classic television series Night Gallery, produced and hosted by the legendary Rod Serling.
There are only two other paintings from this 'second-pilot story' in existence. The first painting which is shown hanging in the gallery, is of a crucified man in agony. The second painting of the same crucified man after its transformation bears the face of actor Richard Kiley. The first painting is the work which Director Guillermo Del Toro has purchased for his infamous collection of historic Hollywood Art.

An historic piece of Hollywood memorabilia co-created by two brilliant artists and friends, Rod Serling and Jaroslav Gebr.
• Acrylic on Canvas, measures 5' x 7' framed.
More Details:
THE ESCAPE ROUTE

Written by Rod Serling
Directed by Barry Shear
Richard Kiley as Joseph Strobe
Sam Jaffe as Bleum
Norma Crane as Gretchen
George Murdock as the First Israeli Agent
The final episode in the pilot trilogy is perhaps most unnerving; that's because it goes beyond the personal experience.
The final episode of the pilot, The Escape Route, stars Richard Kiley as a Nazi war criminal hiding out in South America after WWII. He's not only a hunted man, but is also haunted by his own nightmarish memories of what he did during the war. He seeks escape from his past in contemplating a painting in the local museum of a man in a boat, peacefully fishing, and has such an intense longing to change places with the man that he hallucinates the painted scene coming to life with himself in the boat.



Another regular visitor to the museum is a Holocaust survivor whom the Nazi recognizes from Auschwitz. He is focused on a different painting, that of a crucified man in agony amidst the barbed wire of a concentration camp. The survivor is not seeking escape, but transcendence of his pain by confronting the truth of what happened to him as expressed by this artist, who, he says, has "captured a nightmare" on canvas.




When the Nazi is exposed and chased by the police, he runs to the museum and kneels before the painting of the man in the boat, and begs God to be transported into it. A miracle occurs, but not the one he prayed for. Instead of the man in the boat, the Nazi is transformed into the man on the cross, frozen forever in a moment of supreme suffering as the fitting retribution for his crimes.




_________________________________________________________________________________________
Save
Save
Save
Save
Save
Save
Save
Save
Save
Save
Save
Save
Save
Save